Self-regulating, energy efficient and electronics free PTC heaters
PTC Heaters from Conflux are based on our industry-unique technology using thin foils of electrically conductive PTC rubber. Conflux heaters cannot overheat and require no regulating electronics. The result is an energy efficient and reliable heating solution with a product life expectancy and time to install superior of any alternative solution. Hand on the heart, just simply smarter.

Technology
Proven disruptive technology innovating the way the right amount of heat is applied, to where it is best needed to keep your applications running without interruption.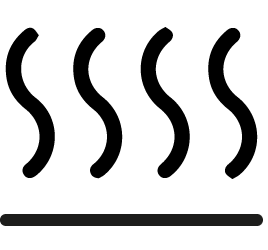 Products
We offer customized and tailored turnkey heating solutions as well as standard thin-film heaters. Optimized for many industrial needs and challenges. Just connect them to power and you are ready to go.

Industry Application Areas
Our heating solutions are applied within a wide array of industrial areas such as Railways, Trains, Aerospace, Automotive, Batteries, Biotechnology, Medical Technology, Military, Off-shore and Sensors.
Applying the right amount of heat to where it is needed. Don't boil the ocean.
Conflux conductive PTC Heaters are ideal for preventing ice formation and keeping objects warm. They automatically maintain a constant surface temperature of choice. The higher the surrounding temperature is, the less electrical current is conducted by the rubber material thereby reducing the amount of heat produced. This means that the energy consumption is continuously adapted to the actual need and that the heat is deployed where it is best needed. Why boil the ocean when you can save energy and money?
Conflux. The Company.
Conflux AB was founded in 1995 as a R&D company by researchers in Sweden, focusing on rubber materials that conduct current. In 1996 the industry-unique Conflux PTC rubber material technology was invented. Today Conflux is a global provider of advanced heating solutions. The head office and production facility is located in Järfälla, 10 kilometers north of Stockholm, Sweden.
De-icing
Off shore
Military
Batteries
Trains
Rail Switches
Tanks of liquids
Heat exchangers
… and many more.